TV. Love great TV. Shows I'm having great fun with lately:
1. The Mentalist - Simon Baker. Yummy. Plus the writing is smart, funny, and with that hint of danger/madness that always intrigues me.
2. Leverage: Timothy Hutton is superb, but this really is an ensemble show. Just when I think I love Sophie best, Porter the little orphan-turned-thief will do something terrific. And the guys on the show are all funny and smart and sexy. What's not to like??
3. Of course, the old standby, the new season of American Idol. I actually like the new judge; she's a songwriter and makes actual sense when she has comments.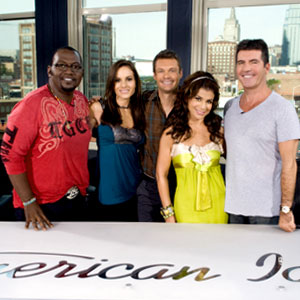 But I have a dirty little secret: I'm giving up most of my TV watching because I'm having so much fun with the books I'm writing that I keep ignoring the TV to write "just one more page." LOL!!
So tell me: what great shows are you watching now? What have you given up on, like I did on Heroes?
oh and P.S. if you're a teacher, I admire the HECK out of you!! Spent the day talking to three different 6th grade classes about being an author and it totally wore me out. How teachers manage to keep all those kids' attention all day long is far, far beyond me!!
hugs,
Alyssa