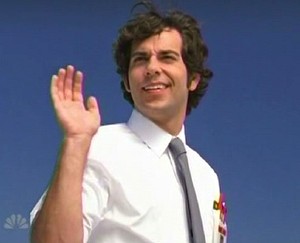 And, seriously, any show with Jayne from Firefly, the ever-hilarious Adam Baldwin, had me at "Let's be bad guys." heh.
So my friend Barb aka
Caridad Ferrer
told me about a fab organization called
Clothes off our Backs
, that makes good uses of all those celebrity cast-offs and goody bag loot. (There's a great NY Times article, quoting Barb, who wore an Oscar dress to win the RITA,
here
).
And I peeked over to take a look, natch. Now the girls have not fit in a size 34B since junior high, because I have my Italian-Irish curves, so the corset auction was out. But I surfed around a little, and there was Chuck. The adorable Zachary Levi, to be precise, who is totally a cutie but somehow manages to pull off the role of a total nerd, in spite of the muscles. Hee.
So I had to bid. On the pink boxing glove, which of course I need like, well, like . . . okay. I totally don't need it. But it was my birthday and, well, I won. So coming soon to a place of honor in my office: a pink boxing glove autographed by Chuck. I'll probably display it next to the 3 foot tall horse statue (see above re: things I never really NEEDED).
Anybody else a Chuck fan? A Jayne fan? Going to see the magic toy store movie this weekend from sheer child-sized person pressure?
hugs,
Alyssa